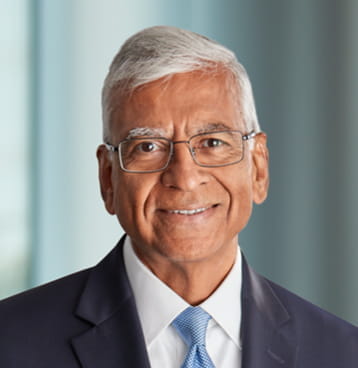 Chetlur S. Ragavan
Former Executive Vice President and Chief Risk Officer, Voya Financial
Director since 2021
Chet Ragavan joined CNO Financial Group's board of directors in May 2021. He serves as chair of the Audit and Enterprise Risk Committee and a member of the Investment Committee.
Ragavan has extensive insurance and financial services industry experience in risk management, portfolio optimization, data analytics, accounting, investment research and strategy. He is the former executive vice president and chief risk officer of Voya Financial, a position he held from 2014 until his retirement in 2019. He was a member of Voya's Executive Committee and chair of its Enterprise Risk Committee. From 2008 to 2013, he served as managing director and chief risk officer for Voya Investment Management.
Prior to joining Voya Financial, Ragavan was managing director and co-head of the portfolio analytics group for BlackRock from 2006 to 2008.
He began his career at Merrill Lynch in 1980 and held several senior technology, investment and risk management positions within its various subsidiaries during his 26-year career with the company. His leadership roles included serving as managing director and global head of fixed income research of Merrill Lynch Investment Managers from 2000 to 2006 and as managing director and head of risk management of Merrill Lynch Asset Management from 1992 to 2000.
Ragavan received a bachelor's degree in business administration from Madurai University, a Master of Business Administration from Madras University, and a master's degree in computer science from the New Jersey Institute of Technology. He is a Chartered Financial Analyst (CFA) and earned the NACD's CERT Certificate in Cybersecurity Oversight from Carnegie Mellon University.
He is a current board member of the Council for Economic Education (CEE) and a former board member of the Voya Foundation and the Fixed Income Analysts Society.