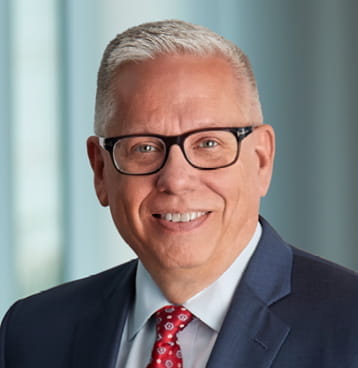 David B. Foss
Board Chair and Chief Executive Officer,
Jack Henry & Associates, Inc.
Director since 2019
David B. Foss joined CNO Financial Group's board of directors in November 2019. He serves as a member of the Human Resources and Compensation Committee and the Governance and Nominating Committee.
Foss is board chair and chief executive officer of Jack Henry & Associates, Inc. (NASDAQ: JKHY), a leading provider of technology solutions to the financial services industry. He served as president from 2014 to January 2022 and was named chief executive officer in 2016. He was elected to the Jack Henry board of directors in 2017 and was named board chair in 2021.
He joined Jack Henry in 1999 when he arranged the sale of BancTec's financial solutions division to the company and subsequently served as president of Jack Henry's Open Systems Group and general manager of the Complementary Solutions Group. He was named general manager of Jack Henry's ProfitStars division in 2006 and its president in 2009. Under his leadership, ProfitStars evolved from a startup division into a global brand serving more than 9,000 clients in the financial services industry. Before joining Jack Henry, Foss held a variety of positions in the financial services industry, including senior operations management, sales management and supervisory roles at BancTec, Advanced Computer Systems and NCR.
Foss received a bachelor's degree in computer science from Minnesota State University.
He previously served as president and a board member of the Association for Financial Technology from 2007 to 2012.