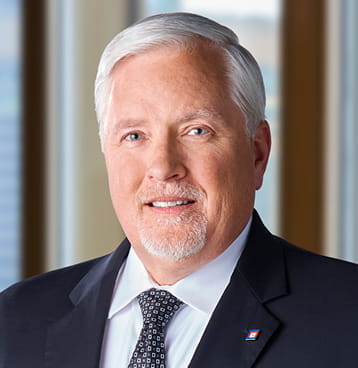 Matthew J. Zimpfer
General Counsel
Matt Zimpfer was appointed executive vice president and general counsel of CNO Financial Group in June 2008. He served previously as the company's interim general counsel, as well as vice president and deputy general counsel.
Since joining CNO in January 1998, Zimpfer has served CNO and its financial services business providing advice in diverse areas such as corporate governance, compliance, reinsurance, M&A, risk management, market conduct and regulatory affairs, labor and employment and fraud prevention. He serves as the executive sponsor of CNO's Diversity, Equity & Inclusion (DE&I) program, and is a founding member of the company's Executive Philanthropic Committee.
Prior to joining CNO, Zimpfer was a managing partner at Zimpfer Klineman & Wright, in-house counsel at Progressive Insurance Company and a law clerk and associate at White & Raub, all in Indianapolis, Indiana.
Zimpfer earned a Bachelor of Arts degree (magna cum laude) in history and political science from Butler University and a Juris Doctor degree from Indiana University Robert H. McKinney School of Law.
He serves on the board of directors of the Indiana Life and Health Insurance Guaranty Association and the Indiana Sports Corp, and is a member of the Indiana State Bar Association, the Association of Life Insurance Counsel, and the Defense Research Institute. He previously served as a board member of the Indiana Chamber of Commerce, Jameson Camp and the St. Vincent Foundation, and served as a member of the Butler University Lacy School of Business Dean's Advisory Council.