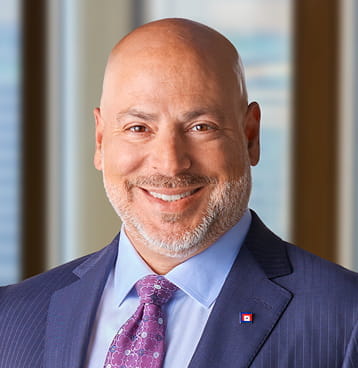 Scott L. Goldberg
President, Consumer Division
Scott Goldberg was named president, consumer division of CNO Financial Group in January 2020, and is responsible for sales and operations of the company's individual consumer business.
Goldberg previously served as president of CNO's Bankers Life segment from September 2013 to January 2020. Since joining CNO in 2004, he has held several senior leadership positions with the company, including senior vice president of enterprise strategic planning. He also served as vice president of strategy and marketing and as territory vice president of sales for Bankers Life.
Prior to joining CNO, Goldberg worked in strategy, consulting and business development roles for CNA Financial, Lante Corporation, and Accenture. He began his career in the audit and business advisory practice of Arthur Andersen.
Goldberg earned a Bachelor of Science degree in finance with honors from the University of Illinois and a Master of Business Administration with distinction from the Ross School of Business at the University of Michigan. He is a Certified Public Accountant.
Goldberg is a board member of the Greater Illinois Chapter of the Alzheimer's Association, serves on the Alumni Board of Governors at the Ross School of Business, and is a Life Insurance advisory board member of LIMRA, a worldwide research, consulting, and professional development organization. Previously, he served on the board of directors of LL Global, a worldwide research, learning and development organization for financial services firms.
In addition, he is active in Hyde Park Angels, the largest angel investing group in the Midwest, and is a member of the Chicago Chapter of YPO.